We realize that your staff clearly DOES NOT need to learn yet another piece of so called "Productivity Software." Law firms are more reliant on technology to "get the job done" than ever before. 360 Legal's Technology Suite makes getting service done a SNAP!
Josh Watson, Director of IT for 360 Legal discuses just how easy it is to either manually send 360 Legal Service of Process Requests, all the way to 100% automation between your CMS and 360 Legal's Service of Process software. Easy, distraction free, Service of Process.
How difficult will is it for a client's team to learn 360 Legal's software? It's usually a very easy process. We customize our solution to match the client's level of automation, size and volume of service requests. If you are a large high volume firm that utilizes a case management system, it can produce data and documents for us. The we have the option to utilize 360Integrate to connect our service of process system with your CMS so your staff continues to do your work as you normally would. Service documents and data flow to and from 360 Legal automatically. If you're a smaller firm and used to doing things in a more custom fashion, then we provide a simple desktop tool, 360Connect where all your employees have to do to submit a service request is drag and drop a few documents over from your desktop. If you prefer, you can still just email documents and send them over the old fashioned way. No matter how you choose to operate; 360 Legal can customize our processes to fit.
We've created a series of interview videos to help you get to know 360 Legal, Florida's Premier Legal Service provider, from the comfort of your office chair. No sales people - no pressure - just us - wanting to help you.
We look forward to getting to know you, and to fulfilling your Service of Process needs. Enjoy this quick interview with Josh, our Sr. Technology Manager.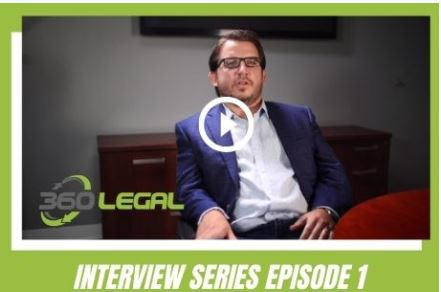 When you think Service of Process in Florida - think 360 Legal! We are sure you will enjoy the difference of working with a Client First company.