Law firms are more reliant on technology to "get the job done" than ever before. We would like to
introduce
you to Josh on the 360 Legal Team, who has spent the last several years developing highly automated technology solutions.
Many of our clients have expressed that some of the changes in ownership and management have left them feeling like they no longer have "a friend" in the Process Service business.
How does 360 Legal use technology to make service of process as easy as possible? We start by working with the client depending on their volume. If it's a high volume client doing a lot of service of process and they have more automated processes, we may work with them directly using 360Integrate to connect our systems together so that everything's loaded back and forth automatically between their case management system and our case management system. Versus a smaller volume client who may be only doing a few jobs a month we try to make that easy as possible by providing a simple little desktop application, 360 Connect, that we can install for them and as simple as drag and drop a couple of documents over to the application and it's in our hands and they can track their order and everything. That is how we use technology to simplify service of process in Florida.
We've created a series of interview videos to help you get to know 360Legal, Florida's Premier Legal Service provider, from the comfort of your office chair. No sales people - no pressure - just us - wanting to help you.
We look forward to getting to know you, and to fulfilling your Service of Process needs. Enjoy this quick interview with Josh, our Sr. Technology Manager.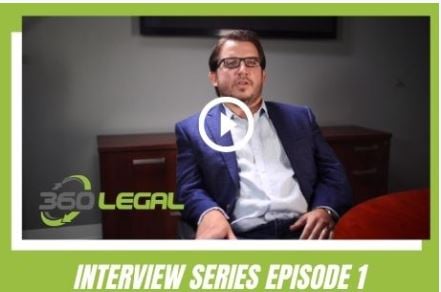 When you think Service of Process in Florida - think 360 Legal! We are sure you will enjoy the difference of working with a Client First company.